Kod lopova i prevaranata beskonačna je lista pronalazaka i metoda koje im pomažu da se približe i dohvate naše imovine. Ako napravite  samo jedan pogrešan potez, možete izgubiti ne samo, naprimer, automobil, nego čak, i život. I to, za samo nekoliko sekundi.
Danas je automobilske alarme sve teže isključiti, oni su opremljeni sistemima koji pružaju odličan nivo sigurnosti i pouzdanosti. Ali lopovi, takođe, ne sede skrštenih ruku. Oni pronalaze nove načine da naprave prevaru.
Zamislite da ste parkirali auto blizu marketa, otišli u kupovinu, vratili se punih ruku, sve utovarili u gepek, seli, upalili auto i primetili da ispod brisača na vetrobranskom staklu stoji zakačena novčanica, i to poprilično vredna.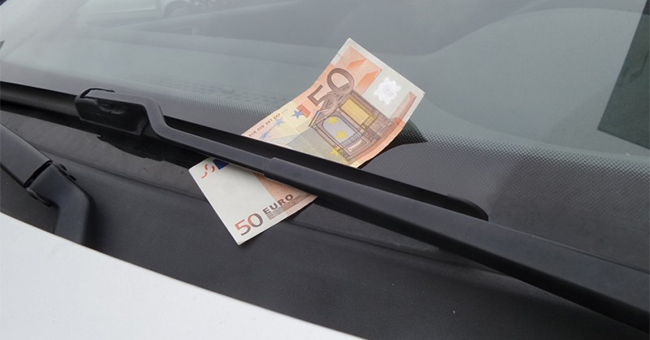 Šta u tom trenutku pomislite? O, kakva sreća! Kakva radost! Ali, ne… To je samo lukavi  trik da se ukrade vaš auto. Novčanicu stavljaju baš tamo, jer morate izaći iz auta da biste je uzeli.
Posebno često se takvi slučajevi dešavaju na parkiralištima i u garažama, gde automobili stoje prednjim delom do zida, i novčanicu primetite tek kada se spremate da krenete.
Vi primećujete novac, izlazite iz startovanog auta, lopov uskače za volan, i momentalno odvozi auto ispred vašeg nosa. To se dešava toliko brzo i iznenada da vi ne stižete ništa razumeti.
Sličan slučaj dogodio se i mladoj ženi Kiri Virman. Žena je bila u kupovini. Kada je već bila na putu kući, primetila je novčanicu ispod brisača. Ispočetka je pomislila joj je neko napravio prijatno iznenađenje za praznik (a šta biste vi pomislili na njenom mestu?).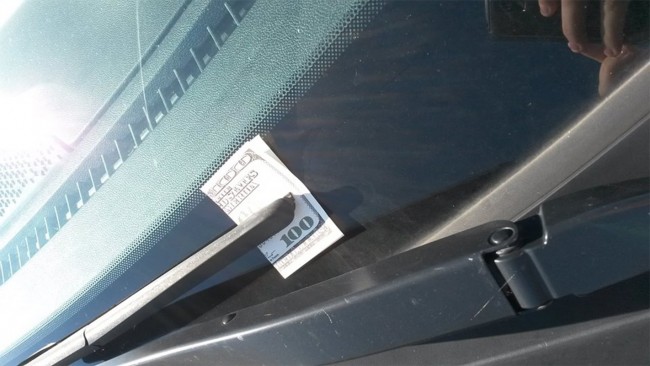 Zaustavila je auto, izašla iz njega i uzela novčanicu od 100$. Tada je shvatila da je falsifikat. Na njoj je čak bila natpis: "Ha! Nisi valjda pomislila da je prava?" Na sreću, Kiri je primetila novčanicu kada je već krenula kući, a ne kada je sedala u auto.
Samo zamislite – sa njom je bio i njen jednogodišnji sin, koji je bio na zadnjem sedištu. A šta da se sve odigralo drugačije? Strašno je i pomisliti.
Budite oprezni i pažljivi, dragi vozači. Uvek imajte na umu: besplatan sir je samo u mišolovci.