Kao i mnoge vrste meda, med od bundeve, takođe se koristi u medicinske svrhe. Oblasti primene ovog meda su veoma raznovrsne.
Najdelotvorniji je kod lečenja bolesti jetre i bubrega. Za mnoge je ovaj med dragocen, jer efikasno pomaže izbacivanju žuči, i lečenju oboljenja mokraćnih kanala. Odličan je za iritirajući kašalj.
Zahvaljujući svom blago laksativnom i diuretskom dejstvu, med od bundeve odlično pomaže kod zatvora i različitih oboljenja debelog creva. Istovremeno, zbog velikog sadržaja vitamina i karotena, ovaj med je izvrstan  pojačivač imuniteta i opšteg životnog tonusa.
Pomaže u borbi sa povećanim holesterolom, aterosklerozom, smanjuje otoke srčane insuficijencije. Korišćenje meda od bundeve preporučuje se i kod gojaznosti.
Kako pripremiti med od bundeve:
Za pripremu meda biće vam potrebna jedna zrela žuta bundeva.
Sve što je potrebno jeste da odsečete vrh i izvadite unutrašnjost (semenke i vlakna).
U dobijeni veliki otvor treba nasuti šećer, bilo koji, po vašoj želji.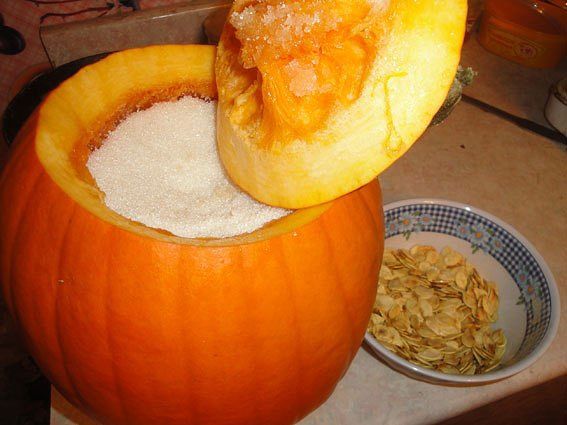 Odgore poklapamo odsečenim vrhom i ostavljamo na desetak dana na prohladno mesto.
Najbolje je bundevu staviti u neku veću činiju, jer vremenom će omekšati i biće je teško premeštati.
Za to vreme, šećer će se otopiti u bundevinom soku. Čim se šećer otopi, skidamo poklopac i sipamo dobijenu tečnost u staklenu posudu.
Ako se, slučajno, na poklopcu bundeve uhvatila plesan, to nije ništa strašno. U tom slučaju napravite rupu na dnu bundeve, i kroz nju  sipajte med u posudu.
Čuvanje bundevinog meda.
Najbolje je med čuvati u frižideru u čistoj staklenoj tegli sa poklopcem. Rok trajanja je oko mesec dana.
Da bi ga sačuvali duže, možete ga prokuvati do zagušćivanja, ali u tom slučaju se izgubi deo korisnih sastojaka.
A kako ćete koristiti ovaj med – to je vaš izbor. Možete sa njim zaslađivati čaj, možete ga konzumirati samostalno 2-3 puta dnevno, po 2-3 supene kašike, možete ga koristiti kao preliv za palačinke, ili izmislite svoju varijantu, sve zavisi od vaše fantazije. Konzumirajte ga koliko god dugo želite. Ako vam je nedovoljno, možete odmah pripremiti veću količinu od 2-3 bundeve.
P.S. Ako nekim slučajem ne možete (ili ne volite) konzumirati med napravljen od šećera, sadržaj bundeve napunite pravim pčelinjim medom.